Windshifter
Exactly two years ago to the day, I sat down and decided, spur of the moment, to participate in NaNoWriMo and started making up a story on the spot.
After no less than nine drafts and several false starts, that book is now ready to go!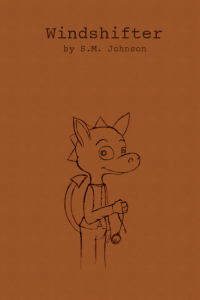 To read the prologue for free, click HERE.
For FAQs and a briefing about the book, click HERE.
To Purchase the E-Book Version:
To Purchase the Paperback Verison:
Oh, and I have also been added to GoodReads!

WHAT PEOPLE ARE SAYING:
"A fun adventure story full of a wide cast of characters, fast-paced storytelling and steampunk goodies. This reminded me quite a bit of the good old Brian Jacques' Redwall books…" – Caroline @ GoodReads
"Excellent YA styled novel about a lost dragon finding his roots, and saving a city in the process." – Sal Manzo @ Goodreads
"Windshifter is an adventurous romp through a magical clockwork landscape! The characters are engaging and well thought-out with just enough detail to let the reader imagine the world in their mind. The story is well-paced and a joy to read." – threegeeks @ Lulu