Dear NaNo Graph,
I hate you for sucking up all my free time.
For tying me to the shackles of an enticing statistic. "Your daily wordcount average is dropping! OMG, get your butt over here and write before it's TOO LATE."
For making me write piles of crap when I couldn't think of anything else to write.
For making me look at my story that I loved at the beginning of the month and hate it for all its flaws. …well, okay, dislike it. Dislike myself for coming up with it and for not being prepared to fix the flaws and for putting my characters into such a trainwreck.
For making me keep writing anyway when I wanted to stop and do something else,
for forcing me to solve problems,
and making sure I didn't quit because then how embarrassing would the graph look?
And that, NaNo Graph…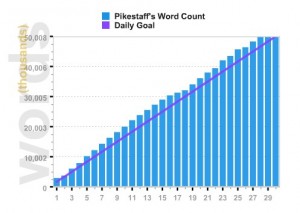 …that is why I love you.
50k, back-to-back.